Vegan Hotel LA VIMEA
Naturns, Trentino-Südtirol
First purely vegan hotel in South Tyrol
At the new 4 star Biotique Hotel LA VIMEA in Naturns we know exactly where your food comes from. We choose healthy ingredients, organic and honestly produced. And we are proud to do so. It is important to us to sustain our region and also your bodies. All meals are vegan and are paired with organic vegan quality wines, which we partially produce ourselves.
Enjoy a different type of vacation
In 2016 LA VIMEA has been fully refurbished following ecological architecture. The exclusive resort is located in a calm location by the centre of Naturns near Merano. Here Italian lifestyle with 315 days of sunshine per year meets the cordial hospitality of the Alps. You will find a clean design in all rooms, elegant wooden floors and natural lighting for a pleasant ambience.
Relax without children – Adults Only
We love children, a lot! However, as a specialist quiet hotel for a truly relaxing holiday in Naturns, we observe an age limit of 14 years for our guests.
Eco travelling
Spend your holidays at LA VIMEA and say yes to fair ecotoursim. Our entire linens are made of 100% organic and FairTrade certified cotton. We use locally sourced ingredients for our creative cuisine. Our park and herb garden is irrigated with spring water from the well. We operate with a solar water heating system and the electricity we use does not come from atomic power. For a better environment.
Wellness and nature
Enjoy healthy swimming at LA VIMEA, whether you prefer our natural bathing pond in the park or our indoor saltwater pool free of chlorine. Indulge in environmentally friendly water, pleasant for the skin, eyes and hair. In our sauna area with Finnish sauna, forest sauna, eco sauna and experience shower you can pause and breathe deeply.
Massages
Enjoy energetic and Ayurvedic treatments at the LA VIMEA Spa with our experienced specialists.
Yoga Retreat
Our yoga instructors take you on a journey that leads to the calm of your inner life and accompany you daily through a selected program of yoga, meditation and forest bathing (included in the price).
Safe bike holidays in Italy
Naturns offers plenty of bike trails und amazing mountain views. Joyful cycling, e-biking and mountainbiking in South Tyrol are a real experience!
| | |
| --- | --- |
| | 100% vegan |
| | 100% organic food |
| | Gluten free options available |
| | Breakfast available, Half board available |
| | Built following ecological principles |
| | Organic care products |
| | Vegan care products |
| | Vegan room facilities |
| | Allergy friendly rooms |
| | Accessible for disabled people |
| | Internet connection available |
| | Pets allowed |
| | Swimming pool |
| | Ayurveda, Yoga, Meditation, Cycling, Hiking, Climbing, Winter sports, Water sports, Golf |
| | Spoken language(s): English, French, German, Italian, Spanish |
| | Certified by VeggieHotels |
Number of rooms: 40
Price per person from: 165 EUR
For prices and availability please use the booking request or visit the website of the hotel
Booking request
Address / Contact

Vegan Hotel LA VIMEA
August Kleeberg 7
39025 Naturns
Italy
Phone: +39 0473 055 035
Fax: +39 0473 089 842

Special Offers
LA VIMEA Vegan Hotel, South Tyrol, Italy
Vegan Golden Fall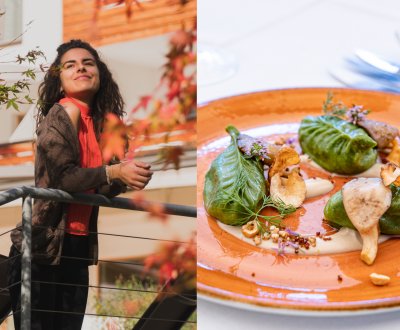 Embracing the beauty of autumn, together we welcome a season filled with warmth, colors, and a bountiful harvest of seasonal delights. To share the full splendor and richness of this season, we've carefully crafted a special offer with one night free of charge, designed for your autumn escape.
[This is a customized limited offer. In case of longer stays, this offer can only be used once.]
4-Night Stay: Enjoy your stay for 2 adults in our cozy "Sun Room" with a private balcony and biovegan half-board (rich buffet breakfast and signature 5-course gourmet dinner).
One Night Free: Book 3 nights and get the 4th night for free!
Late Check-Out: No rush with your check-out. You can stay until 5:00 p.m. (subject to availability).
Inclusive Services: Treat yourself with weekly yoga and meditation programs, wellness access including an indoor pool, saunas, a hot-stone lounge, and our special Canali System gym with a garden view.
Special Offer Period: This exclusive offer is limited and valid for the booking period 14 – 29 October 2023, for the first 10 bookings confirmed after 7 September 2023.
Event date:
14 - 29 October 2023
LA VIMEA Vegan Hotel, Naturno, South Tyrol, Italy
Vegan Romantic Getaway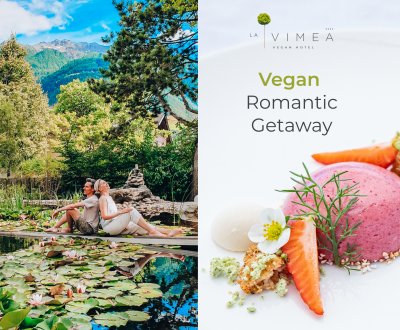 Whether you're celebrating your honeymoon, anniversary or simply craving a romantic escape with your loved one, we have the perfect 100% vegan package for you.
Nice double room with balcony, biovegan half-board. Welcoming Prosecco Rosé and vegan chocolate in the room.
Exclusive use of the Forest Sauna.
Aperitivo treats from the Chef, paired with a signature cocktail/mocktail.
Latest generation e-bikes to explore the area.
Delicious vegan lunch boxes for your outdoor adventures.
Event date:
Valid till 29.10.2023. Limited availability. Full details on the website.