Abriecosy
Bargemon, Provence-Alpes-Côte d'Azur
Abriecosy is a unique place in the South of France, not only for its location but also for its ecological and sustainable spirit.
"Abri" means shelter + eco + cosy, a shelter for people who are consciously growing, need a place to come to rest or want to be inspired.
Stunning views
The location is fabulous: in the middle of the woods, with stunning views over the beautiful nature from every room or terrace. Surrounded by wildlife like birds, bores, deers, bees, foxes, beetles etc… Discovery Channel for sure every day. The silence is incredibly loud and the peacefulness sharp.
On the property of 7,5 ha you find the old typical provencial Bastide (was allready on the map of Napoleon 1810) with 2 large rooms, a romantic wooden chalet and an eco-style house build under the ground.
All the mattresses and pillows are hypoallergenic of 100% latex and the covers and sheets of organic cotton, they are washed every time with natural products. The owner is very accurate on allergies because he is allergic to almost everything himself. Sensible people are in for a treat here.
There is an ecologically treated swimming pool, a pétanque field, you can ask for a massage, cooking class and more activities around sustainable living.
Surroundings
Although Abriecosy is isolated, Bargemon who happened to be one of the picturesque villages of the Var, is only 3 km away. And for discovering the most beautiful places in the Provence again Bargemon is perfectly located.
In only 40 minutes you can be at the seaside or at "Gorges du Verdon" and the higher Alpes.
Vegan breakfast and dinner
Abriecosy is serving a vegan breakfast and also vegan organic dinners. The owners are very conscious about healthy and sustainable food. There is no wheat flour used in the kitchen and most things are made glutenfree.
The breakfast and dinner is not standard, it changes with the need of the guests and the culinary creative inspiration in that moment.
You can expect lots of fruits, fresh plant based milk, homemade spreads, jams, pastes , pancakes and ….
If you love healthy food, animals, nature, herbs of the Provence, mountains, discuss the deeper meaning of life, alternative medicines or you want to discover the important things in life, you're here at the right place.
| | |
| --- | --- |
| | 100% vegan |
| | 100% organic food |
| | Raw food options available |
| | Gluten free options available |
| | Breakfast available |
| | Organic care products |
| | Vegan care products |
| | Vegan room facilities |
| | Allergy friendly rooms |
| | Internet connection available |
| | Family friendly |
| | Pets on request |
| | Swimming pool |
| | Fasting courses, Meditation, Cooking courses, Cycling, Hiking |
| | Spoken language(s): English, Dutch, French |
| | Certified by VeggieHotels |
Number of rooms: 5
Price per room from: 90 EUR
For prices and availability please use the booking request or visit the website of the hotel
Booking request
Address / Contact

Abriecosy
Chemin de Campaouré
83830 Bargemon
France
Phone: +33 603054418

Special Offers
Abriecosy, Provence, France
Stay longer and enjoy!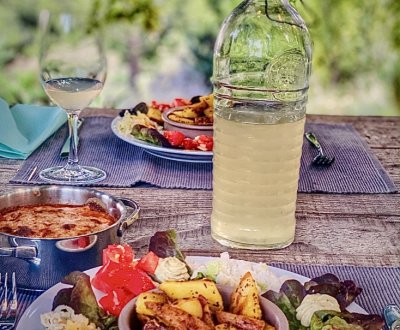 For a stay longer than 10 nights we offer you a free dinner.
Enjoy a culinary, vegan, organic dinner at our family table. The balanced meal is created intuitively according to healthy nutritional principles with the main ingredient "love". We take every special dietary requirement in account, the dinner is always gluten-free.
Culinary, organic, vegan dinner
Cosy and relaxed atmosphere
Event date:
All season
Abriecosy, provence, france
detox weeks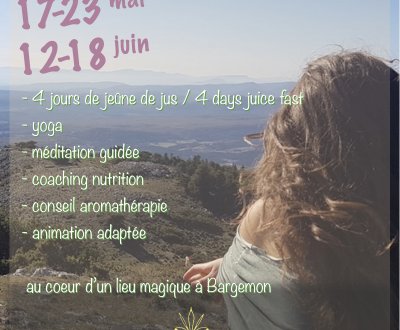 Spring is already in the air in the Provence. Time to sprout new ideas and detoxify to grow again. Nothing nicer than doing this together in a natural surrounding with breath giving views, mountain air, yoga session every morning, 6 days in paradise, 4 days juice fast, guided expertise in aromatherapy, nutrition, relaxed animation every day… We welcome you with a warm heart in our ecological, vegan, organic little paradise.
Stay, meals, animation, guidance, yoga
Event dates:
17 may 2023 - 23 may 2023
12 june 2023 - 18 june 2023